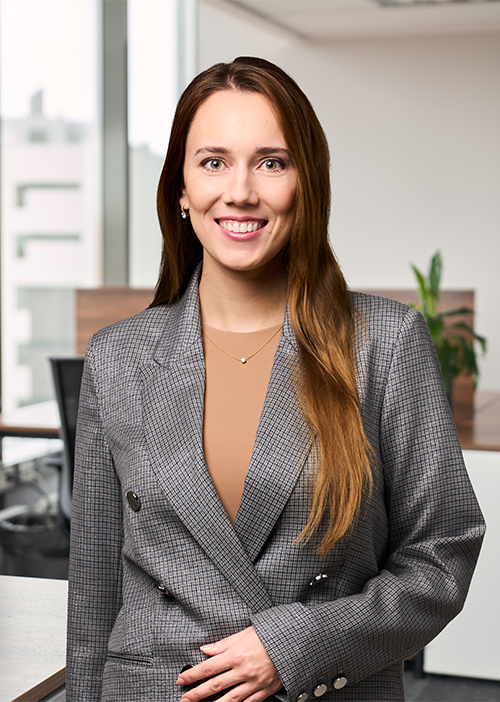 Maiki Virks
Attorney-at-law / Senior Associate, Estonia
My service areas
Dispute Resolution
Employment
International Arbitration
Media, Sports and Entertainment
Public procurement
Restructuring and Insolvency
Phone
Mobile
Email
See LinkedIn profile
Print
SUMMARY
Maiki Virks is a highly esteemed Senior Associate at Magnusson in Estonia, renowned for her extensive experience in dispute resolution. With a strong focus on corporate disputes, including matters related to the liability of the management board and conflicts between shareholders, Maiki's expertise also extends to asset recovery and fraud-related disputes.
Maiki's in-depth knowledge of corporate law is supported by her previous experience in consulting businesses, allowing her to navigate even the smallest nuances in disputes. She has successfully represented clients in matters related to crypto assets and asset recovery, showcasing her proficiency in complex cases. Additionally, Maiki is well-versed in the area of regulation associated with the liability of unentitled persons in the management of a company, further enhancing her capabilities in corporate dispute resolution.
In addition to her corporate dispute expertise, Maiki's skillset encompasses contract disputes, employment disputes, and disputes related to the division of joint property. Her exceptional legal acumen and track record of success in representing clients have been recognized through her published articles and lecture contributions.
Prior to joining Magnusson, Maiki gained significant experience as an attorney in another esteemed Estonian firm, further cementing her reputation as a seasoned legal professional in the field of dispute resolution, including asset recovery and fraud-related disputes.
PROFESSIONAL EXPERIENCE
Magnusson
Senior Associate – 2020 – to date
WALLESS
Associate – 2018 – 2020
RASK
Associate – 2017 – 2018
Lawyer – 2016 – 2017 
EDUCATION
Summer School of European Union Law, Academy of European Law in collaboration with European University-Institute (Firenze, Italy) – 2019 
University of Tartu, Law, MA – 2015 – 2017 
Summer School of European Private Law, University of Salzburg, Austria – 2016 
University of Tartu, Law, BA – 2012 – 2015 
BAR ADMISSIONS
Member of the Estonian Bar Association 
LANGUAGES
Estonian – native
English – fluent 
PROFESSIONAL MEMBERSHIPS
Member of International Association of Young Lawyers (AIJA).
PUBLICATIONS
Vandeadvokaat selgitab: Riigikohus kinnitas osanike õigust nõuda osaühingu dokumentidest koopiaid.
Advokaat räägib tööstressist otse ja ausalt
Faktiline juhatuse liige ja tema vastutus äriühingu ees
Rail Balticu trassialuse maa eest võiks Eestis ja Saksamaal maksta võrreldavat hinda