Magnusson advised Northgold AB on the acquisition of Northern Aspect Resources Oy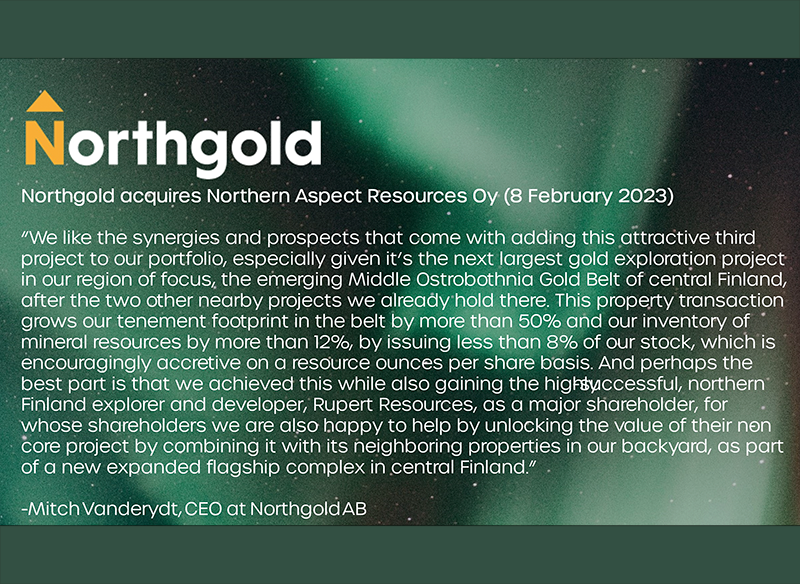 Magnusson advised Northgold AB (Northgold) on the acquisition of all shares in Northern Aspect Resources Oy and on the directed share issue in relation to Finnish law. Northgold and Rupert Resources Ltd. (Rupert Resources) entered into a share purchase agreement regarding the shares for which a seller promissory note for approximately MEUR 1.12 was used as payment in exchange for 890,000 newly issued shares in Northgold. The closing took place on 8 February 2023. On the same date Northgold also carried out a directed share issue of MSEK 10.4 to a limited number of investors, including an investment of MSEK 2.8 from Rupert Resources. Northgold will use the proceeds from the directed share issue to fund continued systematic exploration and development activities, with a primary focus on the Kopsa and Kiimala projects within the Middle Ostrobothnia Gold Belt.
Northgold is a Swedish-listed gold exploration and development Company focused on advancing multiple, co-located, resource-stage projects in the Middle Ostrobothnia Gold Belt (MOGB) of Central Finland, including the Kopsa Gold-Copper project, the Kiimala Trend Gold project, and the newly acquired Hirsikangas Gold project. The Company strives to grow its gold mineral resources, make new gold discoveries, and ultimately extract gold from these under-explored areas in Central Finland.
"Northgold commends Magnusson Law for its exceptional performance in advising Northgold on its recent acquisition of Northern Aspect Resources Oy. The transaction was completed smoothly, thanks largely to Magnusson's careful attention to detail and conscientious cooperation with all related parties spanning across three countries.", says Mitch Vanderydt, CEO, Northgold AB.
Magnusson's key team members in the project were Attorney-at-law / Partner Ville Salonen, Associates Emilia Alakurtti and Antti Muranen.
Picture: Northgold AB
Ville Salonen
Attorney-at-law / Partner / Co-Head of Tampere / Chairman of Magnusson International
Commercial, Corporate and M&A, Corporate Immigration, Data Protection, Employment, ESG and Sustainability, Intellectual Property, Media, Sports and Entertainment, Real estate, Tax, Technology
Send me an email
+358 46 814 1441
Emilia Alakurtti
Associate
Corporate and M&A, Data Protection, Employment, Insurance and financial services, Restructuring and Insolvency
Send me an email
+358 40 024 4170