Magnusson Copenhagen goes green with Europe's biggest vertical farm project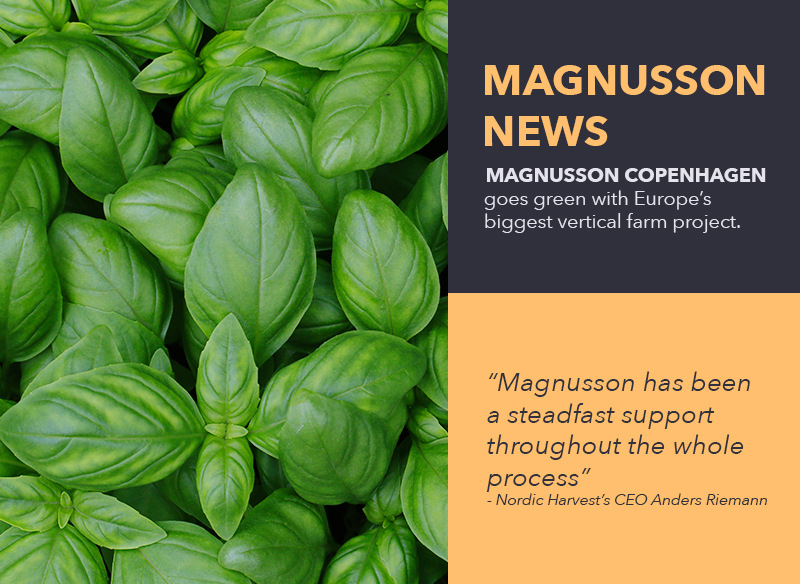 Magnusson's Danish office has advised Nordic Harvest on raising DKK 62 million to create Europe's biggest vertical farm enabling delivery of locally produced, high quality green leaves, spices and other vegetable products for the Danish consumers. 
Facing sustainability issues food production needs to find new paths, and with vertical farms the use of pesticides is gone as well as CO2 emission from transport is heavily reduced.
Add a much better taste and higher quality than what you see from conventionally grown products this have convinced the Danish government's VC arm Vækstfonden, foreign VC players, the CEO of Danish private equity firm Maj Invest and business leader Johan Hoffmann as well as the new Danish sustainability investor Danmark Grønne Investeringsfond to provide funding together with +40 smaller business angel investors, many of which have been attracted to the project due to its sustainability profile.
"With a very diverse group of investors the project is of a very complex nature and has taken time to create a set of transaction documents that cater both for protecting minority interests and showing the path forwards to Nordic Harvest's future expansion plans into other countries in the Nordic region and beyond", says Magnusson's team leader corporate partner Nikolaj Juhl Hansen, who has been working on the project since 2016.
Nikolaj adds, "Nordic Harvest is one of these start-up clients that you get so exited to work with that you decide to invest your time to see the project through. We have been working on the case for 3½ years and it would only be a financial success for us if we could help getting the project airborne. CEO Anders Riemann is such an inspiration to work with and he has created a fantastic project that really sets the standard for new-age food production, and we have learned so much from working with Anders and the wider Nordic Harvest team that I think we can call ourselves vertical farm "experts".
Partners Tom Froberg (employment) and Andreas Hammer (construction), legal counsel Søren Theilgaard (corporate) as well as paralegal Casper Simonsen has also been part of the project team.
Nordic Harvest's CEO Anders Riemann and chairman Michael Ingemann says: "Magnusson has been a steadfast support throughout the whole process. With professionalism, 24/7 connectivity, a great commercial understanding and a "we can do it" attitude Nikolaj and his team has been a valuable asset, and we look forward to working with Magnusson on getting the project up and running in Denmark as well as on our international expansion plans.