Leading Nordic-Baltic law firm Magnusson announces new Chair of its international committee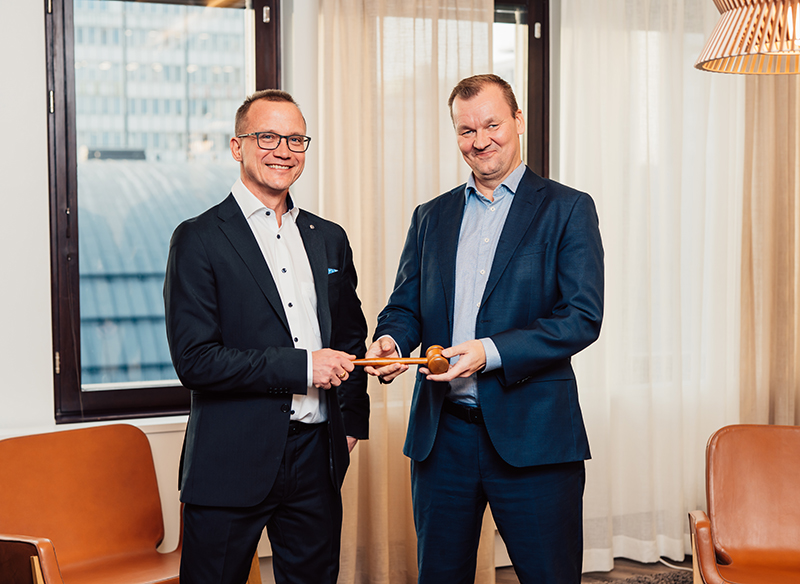 At Magnusson, 2022 heralds the appointment of a new chair of its international committee, partner Ville Salonen, Co-Head Dispute Resolution at Magnusson Finland. The move reinforces the firm's strategy of developing a modern, leading Nordic-Baltic full-service business law firm with a truly international reach.
The outgoing chair of Magnusson International, Tomi Merenheimo, Managing Partner at Magnusson Finland, has successfully led the firm's transformation in recent years from a centralized management system into a more flexible and inclusive decision-making culture, passes the role of Chair of Magnusson International on to Ville Salonen to take the firm to the next stage with effect from 3 January 2022.
"During my three years as Chair, Magnusson has internally shifted from a centralized management model to engaging all partners from across our seven jurisdictions into taking initiative and responsibility for the firm's success. Our joint marketing efforts have focused on networking, which is starting to yield pleasing results in increasing contact with and interest from international law firms as well as potential clients in working with us. Ours is a people business based on trust and I am confident that we are continuing to deliver. In addition to being a skilled international lawyer, Ville is also a football coach and a team player, meaning he has the inherent understanding of leadership and teamwork to take Magnusson to the next level," Tomi commented.
The pursuit of a truly independent and robust Nordic-Baltic presence has already seen results, with all Magnusson offices reporting significantly increased referrals and work from top international law firms from outside the region, as the firm is increasingly perceived as more of a partner than a competitor. Moreover, joint engagements between Magnusson's offices in direct international sales and marketing is proving not only beneficial from a business perspective, but also continues to strengthen and evolve cross-border competences and cooperation.
"This is a team sport and indeed the success lies in joint efforts, so I am honoured and eager to take on the position of Chair. We will continue to strive towards our goals of raising Magnusson's brand awareness, being the preferred legal partner for business law needs in the Nordic-Baltic region and attracting business directly from blue chip organisations in Europe, US, China, Japan, and Middle East. We can get the best work only if we have the best people, so one of the crucial goals is attracting and keeping the best talents and having Magnusson at the top of mind of future lawyers," Ville said.
Established in 2004, Magnusson is an independent international business law firm, unrestricted by any exclusive network obligations. Magnusson has a well-established presence in Finland, Sweden, Denmark, Estonia, Latvia, and Lithuania, comprising a specialist network of approximately 120 specialist lawyers (including 30 partners) and offering one-stop-shop integrated legal services. Thanks to the firm's numerous global connections, Magnusson's legal reach extends far beyond its own jurisdictions, making its offering uniquely international in the region.
Magnusson is continually recognized by leading international legal directories being ranked amongst top advisers in the latest editions of Legal 500 EMEA, Chambers Europe, Chambers Fintech Legal, IFLR and World Tax. Magnusson was shortlisted for The Lawyer European Awards 2021 Law Firm of the Year under the categories of both Scandinavia and the Nordics and the Baltics.
Magnusson International Verein
Operating under the Swiss Verein structure, Magnusson unites legal entities under one brand sharing a unified strategic vision, a set of corporate values and the same high service standards. The Magnusson International Committee, comprised of partners from each of the seven jurisdictions, is responsible for the development and execution of Magnusson's joint strategy.
Ville Salonen
Attorney-at-law / Partner / Chairman of Magnusson International
Commercial, Corporate and M&A, Corporate Immigration, Data Protection, Dispute Resolution, Employment, Energy, Intellectual Property, International Arbitration, Life sciences, Media, Sports and Entertainment, Public procurement, Real estate, Tax, Technology
Send me an email
+358 46 814 1441
Tomi Merenheimo
Attorney-at-law / Managing Partner Finland
Commercial, Capital Markets, China group, Corporate and M&A, Data Protection, Employment, Insurance and financial services, Intellectual Property, Life sciences, Media, Sports and Entertainment, Real estate, Restructuring and Insolvency, Retail and consumers, Technology
Send me an email
+358 40 560 6101