Magnusson advised Intel 471 on the acquisition of SpiderFoot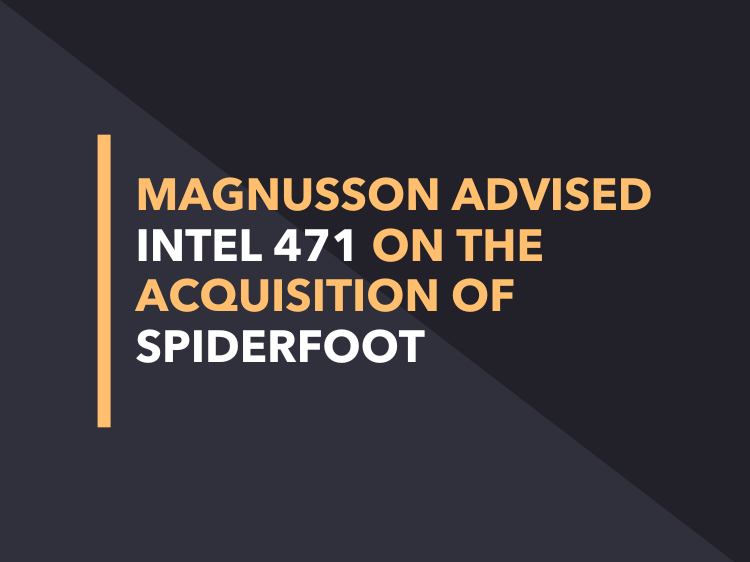 Magnusson advised Intel 471, the premier provider of cyber threat intelligence for leading intelligence, security, and fraud teams across the globe, on the acquisition of SpiderFoot (SM7 Software OÜ), the best-in-class provider of open-source intelligence, attack surface management and digital investigations.
SpiderFoot is an OSINT automation platform for threat intelligence operations and digital investigations. Available as open source on GitHub and as a commercial SaaS, SpiderFoot has been developed for over a decade, enabling threat intelligence and security teams to identify vulnerabilities and threats posed to their organizations.
The acquisition of SpiderFoot further bolsters Intel 471's suite of threat intelligence solutions and provides a new level of insight for the company's portfolio of global clients.
"At Intel 471, our mission is to protect the world's organizations from today's most prevalent cyber risks and threats. Our acquisition of SpiderFoot reinforces our commitment to our mission by enhancing our portfolio and providing premier cyber threat intelligence solutions to organizations across the globe", said Mark Arena, CEO of Intel 471.
The terms and value of the transaction are confidential.
Magnusson team included managing partner Jaanus Mägi (Corporate), partner Elvira Tulvik (Tax), managing associate Linda Merileid Tilk (Corporate/IP), managing associate Ketlin Peterson (Employment), senior associate Sille Eerik (Data Privacy) and associate Lev Goffert (IP/IT).
Working on this cross-border transaction Magnusson advised the acquirer Intel 471 in-cooperation with Loyens & Loeff (Switzerland), Reed Smith LLP (USA) and Kirkland & Ellis LLP (USA).
Jaanus Mägi
Attorney-at-law / Managing Partner
Capital Markets, China group, Commercial, Corporate and M&A, Employment, EU and Competition, Marketing Law, Media, Sports and Entertainment, Retail and consumers, Technology
Send me an email
+372 670 8401
+372 501 2120