Magnusson Finland promotes two new partners and one Specialist Associate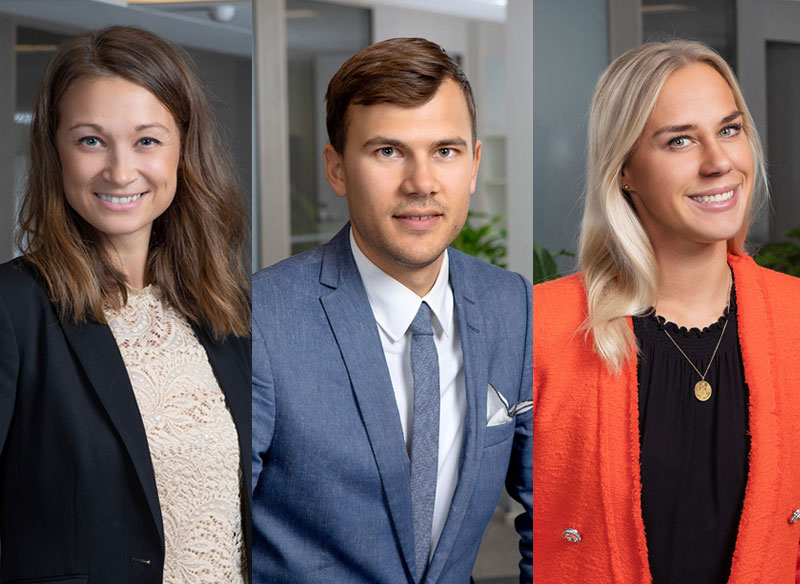 Partner promotion
Magnusson Finland has strengthened its team by inviting two long-standing experts, LL.M. Anu Vuori and LL.M., M. Sc. (Econ.) Lauri Toivio as partners.
Anu specialises in employment law, contract law and dispute resolution. She has significant experience of both domestic and international legal matters, especially in the fields of employment law and dispute resolution. Going forward, Anu will lead Magnusson Finland's employment law practice and act as the head of the Magnusson's Tampere office.
Lauri specialises in dispute resolution as well as real estate and construction law. He is very experienced in contractual and other legal matters related to properties, construction and construction contracting. In addition to this, Lauri also handles legal proceedings and arbitration related to the construction industry and other industries. Going forward, Lauri will lead Magnusson Finland's real estate and construction practice.
Magnusson Finland's Managing Partner Tomi Merenheimo comments:
"Since the establishment of Magnusson's Finnish office in 2011, we have provided our customers with increasingly international legal services and strengthened our expertise in especially international acquisitions and dispute resolution. We are constantly developing our operations, and are very proud to promote Anu and Lauri to their new roles. These promotions further improve our service offering. All of our experts are experienced professionals in our field, and the recently appointed persons truly complement our partnership in Finland."
In addition to partner promotions, we are strengthening our CMA team
We are pleased to announce that our long-standing lawyer Lilli Parbo has been appointed as Specialist Associate for the Corporate and M&A team. She has worked at Magnusson for several years since her studies. In her work, she leads various domestic and international acquisition projects on a weekly basis.
At the same time, the CMA team has welcomed Associate Laura Hirvijoki back from her year-long court training period at the district court.
Magnusson is an international business law firm with offices in Finland, Sweden, Denmark, the Baltic countries and Russia and strong international connections to various partners in different countries. In Finland, Magnusson employs a total of approximately 30 lawyers and attorneys. Our Finnish offices are located in Helsinki and Tampere. Our service offering also includes China, Russia and Middle East desk services. Our firm and experts are recommended by leading international legal directories such as Legal 500 EMEA and Chambers Europe. Internationally, Magnusson employs approximately 120 lawyers in total.