Co-existing with Covid-19: An M&A reboot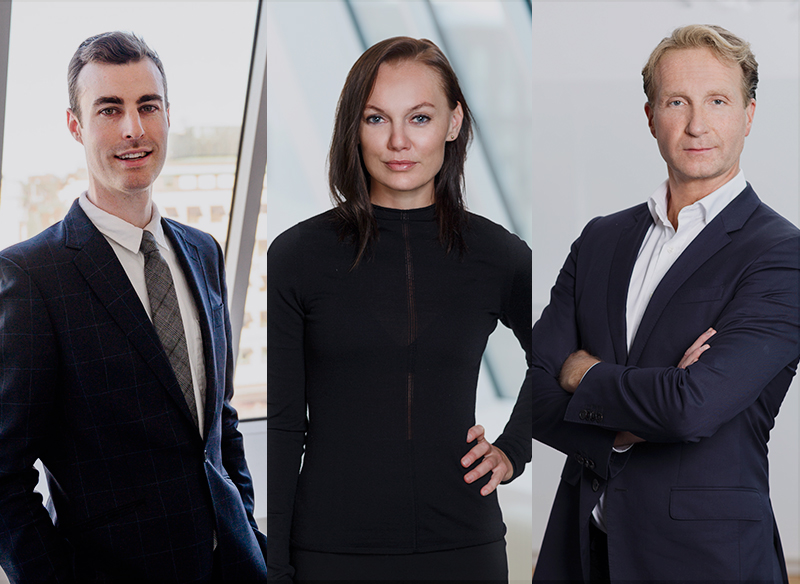 After months of talk of "flattening the curve", "test, test, test" and trillions in government support, many hard-hit regions are starting to rollback restrictions and re-open their economies. While Sweden followed a somewhat different strategy to its neighbours, as an export-focused economy its recovery will also depend on what happens elsewhere. Despite a drop in M&A activity in the region (see graph below), Magnusson's M&A team has seen resilience in the market, as actors with sufficient liquidity look to take advantage of the new opportunities in the market. In this article, we provide a high-level overview of some of the factors M&A actors should take into account in this new economic landscape, including delays, due diligence, material adverse change (MAC) clauses, reps and warranties and pricing.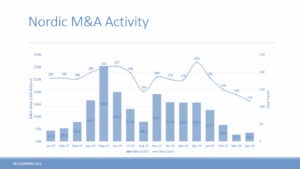 Source: Bloomberg 2020
Delays
In M&A deals, time is often of the essence. We know that delays to closing, regardless of the reason, can scupper an entire deal. However, with lockdowns still partly in place, delays are inevitable as parties may be unable to conduct site visits, access physical documents, sign documents according to legal requirements or obtain any necessary government approvals within the typical processing times. Such roadblocks may cause delays to fulfil any conditions precedent. As governments worldwide have tightened their foreign investment regulations and foreign investors in particular face much closer scrutiny. Parties need to factor in that their transactions may take longer than usual and where possible, plan for contingencies and provide for extended long stop dates.
Due diligence
In the current environment, thorough and careful due diligence is essential. Naturally, this takes longer and as mentioned above, lockdown restrictions may even hold up the due diligence process by preventing site visits. From a buyer's perspective, several questions raised by Covid-19 need to be answered by the due diligence, including:
How is the target mitigating the consequences of the outbreak and preparing for any second wave?
How is the company complying with local regulations on health and safety?
Has the company suspended or terminated any of its agreements with third parties as a result the outbreak and if so, what are the legal consequences? If not, should it do or have done so?
What if any regulatory changes are expected that could affect the target?
Does the target have insurance policies that could mitigate the effects of Covid-19 or security in the event of default of a debtor?
Buyers should negotiate specific indemnities for any risks identified during the due diligence among the reps and warranties in the purchase agreement and more general guarantees in relation to the pandemic. Sellers should disclose as widely as possible and be prepared to negotiate the terms of any such indemnities.
MAC clauses
Buyers should push for MAC clauses that take into account the size and industry sector of the target as well as the specific and general impacts of the pandemic. Consider in particular:
the impact of the virus on the target's profit-generating capacity:
the degrees to which this will be affected by a prolonged or second wave of the pandemic; and
any exclusions for events beyond the target's control (e.g. war, regulatory changes, etc.)
Pricing
While buyers will be keen to include a pricing clause that calculates the value of the target at the closing date, as well as recourse to earn-outs conditional on the achievement of certain milestones. Sellers should negotiate obligations on the part of the buyer to keep the seller informed and to mitigate any problems, to ensure the buyer works actively to achieve any such milestones.
Post-signing, pre-closing
Sellers should be particularly aware of their obligations post-closing and pre-signing to keep the buyer informed of any event likely to significantly affect the target's results or financial situation, as well as not to take any major structuring decisions without the buyer's consent. Buyers should seek to beef up these obligations during negotiations.
Magnusson comment
As mentioned, despite an overall drop in M&A activity, we have seen resilient players take an active interest in the opportunities in the market. For agile parties who are able to take into account the various additional risks associated with the pandemic, there is plenty of reason to be optimistic about the future.
We at Magnusson are available to provide legal advice on how your business should manage any Covid-19 related issues in all legal areas, including corporate restructuring, labour law, insurance law, reviewing commercial contracts, advising how to best handle procurement in emergency and dispute resolution to help ensure that your business is well placed to co-exist with Covid-19.
Contact me and learn more